Counties Manukau Health funds and provides health and disability services to an estimated 525,120 people who reside in South Auckland.
The challenge
With over 6,500 staff who fund and deliver health services to an estimated population of 525,120 people, Counties Manukau Health (Counties Manukau District Health Board) embarked on a significant systems change programme towards a more local and integrated patient experience.
In the short video below, several project partners share their experiences of the project, as well as the impact it has had.
What did we do?
Over three years, we worked in partnership with the senior leadership team at Counties Manukau Health on service redesign, organisational change, governance, programme planning and communications. Throughout our work, we helped senior leaders and other health professionals to wade through some of the complexity and identify pragmatic steps toward improved health service delivery.
As part of this work, we led the design of a new youth health model of care that acts as a framework for commissioning $12 million of youth health services.
In partnership with Curative, we developed an engagement plan for system integration with insights and personas to support meaningful and accessible communication with health professionals.
We also co-designed a social marketing programme to support people with long term conditions to positively manage their health.
We created
Insights on Long Term Conditions in Counties Manukau
A Social Marketing Plan for Long Term Conditions
Rapid Review of the Manurewa Youth Mental Health Pilot Project

In partnership with Curative we've developed an engagement plan and communications products that tell the system integration story from a patient and clinical perspective, including: effective communications products including:
System Integration Engagement plan
Counties Manukau Health Roadmap
Counties Manukau Metaphorical Patient: The Lealofi Family
Counties Manukau Health System Integration videos (see below)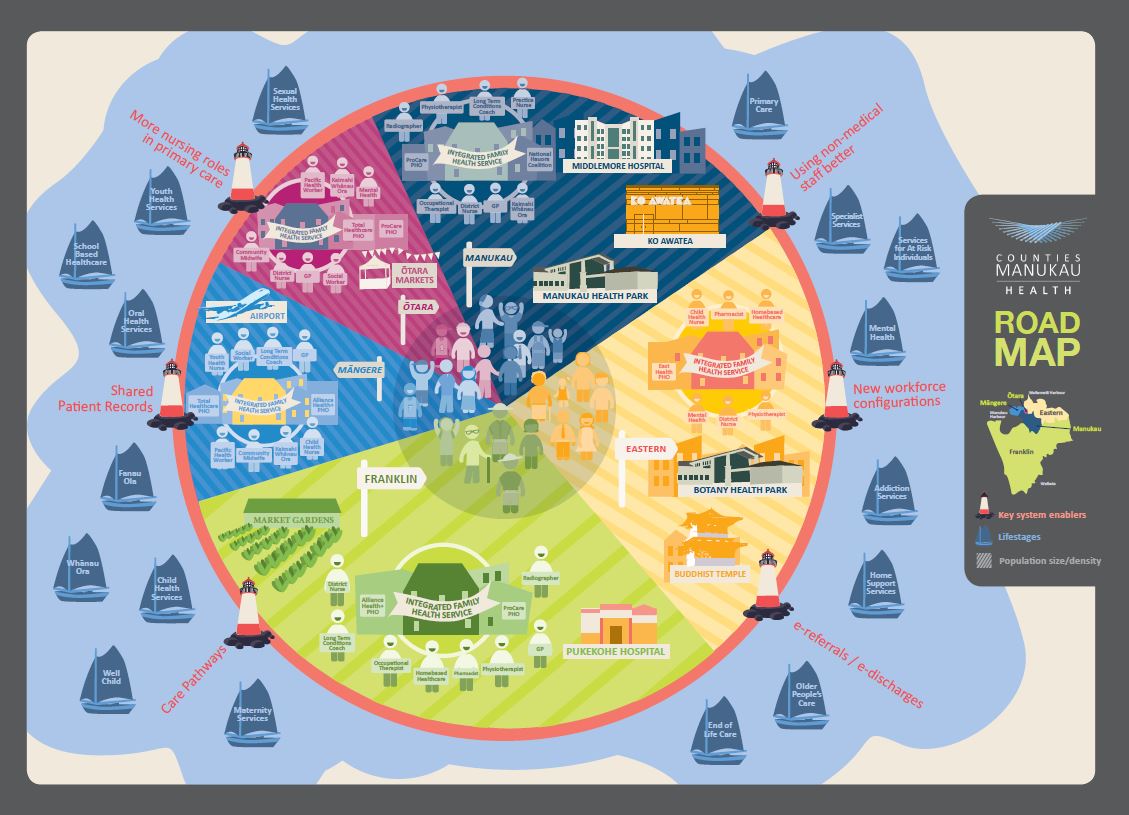 Our impact
The communications products, model of care and plans that we developed for Counties Manukau Health have attracted significant attention, including positive feedback from government ministers, other health boards and international health colleagues.
Many health professionals have suggested the videos were the clearest description of health integration they had encountered. The plans we designed to support system integration provided a clear way forward to improve youth health and self-management of long term conditions.
"This video shows @cmdhb approach to integrating community and hospital care. Makes sense #bsmc [Better, Sooner, More Convenient health care in the community]"
Tweet by Hon. Tony Ryall, Minister of Health sharing Systems Integration video
"Wow! I am so impressed with the outcome that your organisation has presented!… I can only imagine the positive impact this programme would have on society, more specifically, Counties Manukau."
Co-designer, long term conditions social marketing plan